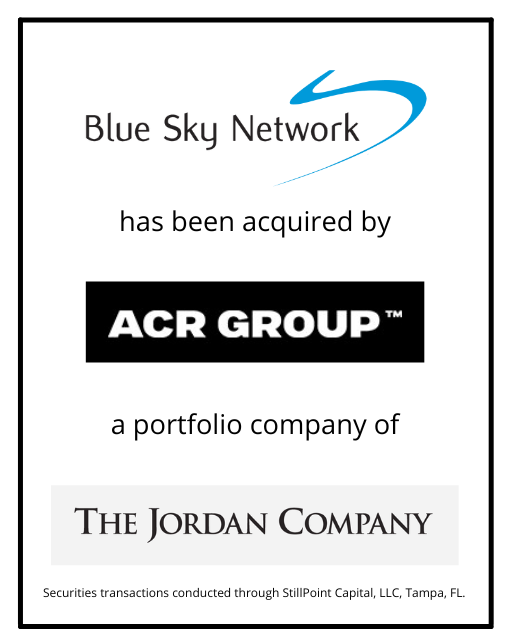 Greenwich Capital Group ("GCG") is pleased to announce its role as the exclusive investment banker to Blue Sky Network (the "Company") on its sale to ACR Group Corporation ("ACR Group"). This transaction adds to GCG's extensive experience within the aerospace and defense, satellite communications, and technology sectors.
About the Transaction
ACR Group is a technology company committed to innovation in satellite communications and assured positioning, navigation, and timing solutions for the aerospace, government & military, and outdoor & marine market. Blue Sky Network is a pioneer in the development of satellite tracking systems and two-way communication for remotely active private, commercial, and government fleets. Founded in 2000, and headquartered in San Diego, California, the Company specializes in the design and delivery of communication, IoT, and fleet management solutions for land, air, and sea operations. Today, Blue Sky Network serves over 450 customers and dealers in more than 50 countries.
"The importance of reliability and connectivity is paramount for austere environments. Blue Sky Network brings industry leading innovation and answers that solve these challenges for each of our core market segments within the ACR Group," said David Knowles, President and CEO, ACR Group. "We are excited at the capabilities this acquisition will bring to the ACR Group and its technology brands."
Blue Sky Network will retain its existing management team, products, brand, engineering capabilities, and sales capabilities. The Company will join ACR Group's portfolio of companies which include, but are not limited to, SKYTRAC, NAL Research and ACR Electronics, to deliver mission-critical tracking and satellite connectivity solutions on a global scale to enterprise, governmental and recreational users.
About GCG's Role
GCG acted as the exclusive financial advisor to the Company in its sale to ACR Group. "In joining the ACR Group, Blue Sky Network will be able to extend its offering of SATCOM solutions across industries and market sectors, providing customers with customized and reliable connectivity around the globe," said Peter Frankfort, Managing Director of GCG.
"GCG was invaluable to the Company from the beginning to the end of the entire process. They provided advice and guidance based on years of deal experience and brought professionalism and support to every aspect of the transaction. Their deal team maintained a consistent focus on achieving shareholder objectives and exceeded our expectations of what we envisioned from an advisor," said Tucker Morrison, CEO of Blue Sky Network.
About Blue Sky Network
Blue Sky Network is an industry-leading provider of mission-critical fleet management, business continuity, and operational analytics solutions, serving commercial and government customers worldwide. Since its founding, Blue Sky Network has been a partner of choice to track, manage, and optimize high-value assets in real time for improved safety, reliability, and operational efficiency. Blue Sky Network is headquartered in San Diego, California, with over 450 customers and dealers in more than 50 countries. Additionally, Blue Sky Network holds Anatel certification and maintains additional offices in São Paulo, Brazil, and Scottsdale, AZ. To learn more, please visit www.blueskynetwork.com.
About ACR Group
ACR Group is a technology company committed to innovation in satellite communications and services and assured position, navigation and timing for aerospace, government, and outdoor & marine markets. ACR Group invests in innovation that creates solutions to dynamic changes in our markets. The ACR Group consists of ACR Electronics, ARTEX, Bivy, Blue Sky Network, Flight Data Systems, FreeFlight Systems, Latitude Technologies, NAL Research, Ocean Signal, SKYTRAC, TrooTrax, TRX Systems, and United Molders Limited. For more information, please visit www.acrgroupcorp.com.