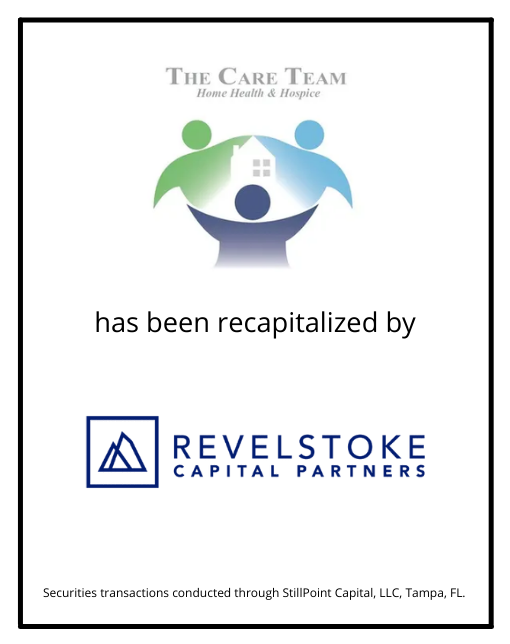 Greenwich Capital Group ("GCG") is pleased to announce its role as the exclusive financial advisor to The Care Team ("TCT"). The Care Team has been recapitalized through its partnership with Revelstoke Capital Partners ("Revelstoke"). This transaction adds to GCG's extensive experience in the healthcare sector.
About the Transaction
The Care Team is one of the largest Michigan-based home health and hospice agencies in the Great Lakes region with offices in Farmington Hills, Saginaw and Flint. The Company offers a full spectrum of home care services and employs top industry professionals including physical therapists, skilled nurses, medical social workers, home health aides, and occupational and speech therapists.
Revelstoke is a Denver-based private equity firm with a long, successful track record of building industry leaders in healthcare services. Since the firm's inception in mid-2013, Revelstoke has raised approximately $1.9 billion of equity and completed 64 acquisitions, including 16 platform companies and 48 add-on acquisitions.
TCT's partnership with Revelstoke will help accelerate the growth of the Company and help it move towards its goal becoming a multi-state healthcare services provider. "Over the last four years, The Care Team has grown into a leading regional provider of home health and hospice services. As we looked to continue growing the business and adapt to the constantly evolving regulatory environment, we searched for a like-minded partner that would help us to achieve our growth objectives. GCG worked tirelessly to help us find the right partner and went above and beyond in all aspects of the process. We are excited about our partnership with Revelstoke and look forward to the continued success of The Care Team" said Jason Laing, founder and CEO of The Care Team. Mr. Laing will remain a significant shareholder of the Company and continue his role as the CEO.
"The top priorities throughout the process were achieving the shareholder's objectives and ensuring the well-being of the company's employees moving forward. GCG focused on finding a strategic financial partner that could appreciate the intrinsic value built in The Care Team since its inception. Revelstoke shared in the vision of Jason and the Company, which ultimately made them the perfect partner for continued growth" said Andrew Dickow, Managing Director of GCG.
Click here for the official press release.