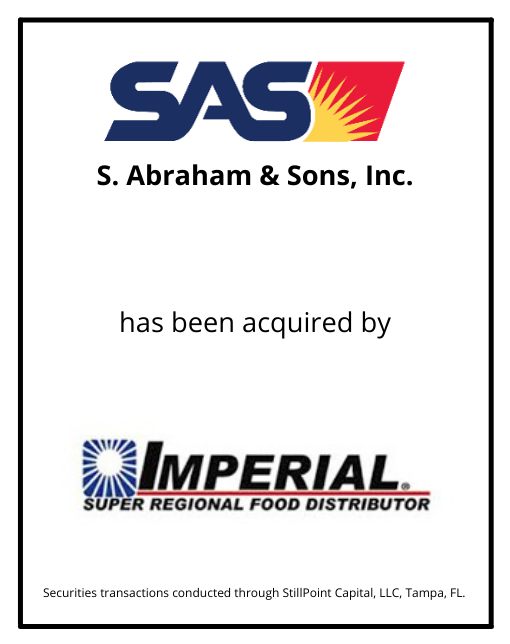 Greenwich Capital Group ("GCG") is pleased to announce its role as the exclusive financial advisor to S. Abraham & Sons ("SAS") on its sale to Imperial Trading Company ("ITC"). This transaction adds to GCG's extensive experience in the Food & Beverage sector.
About the Transaction
S. Abraham & Sons is a fourth-generation convenience store distributor, headquartered in Grand Rapids, Michigan, serving customers across eight midwestern states with nearly $1.2 billion in annual sales. Imperial Trading Company, headquartered in Elmwood, Louisiana, serves as a convenience store distributor across nine southern states. ITC is one of the top 10 privately owned employers in the Southeast. As a result of the merger, the combined company has become the fifth largest convenience store distributor in the U.S., with service capabilities from the U.S.-Canadian border to the Gulf of Mexico. Together, they will now supply more than 5,000 retail locations, with annual sales volume totaling $2.5 billion.
"As we looked at opportunities for the future of our company, we sought a like-minded company with similar core values and marketing philosophies. We found that in ITC." said Alan Abraham, President of SAS.
The two organizations share a similar history and culture. SAS was founded more than 90 years ago by Sleyman Abraham, a Lebanese immigrant. Imperial was founded more than 100 years ago by C.H. Pelias, a Greek immigrant and grandfather of current owner John Georges. GCG is pleased to have advised on a transaction that will allow the legacy of SAS to live on and thrive with a partner that expands its geographic footprint and capabilities.
"The shareholders' objectives were front of mind throughout the entire process. We focused on finding a strategic partner that would see the intrinsic value the Abraham family has built over the last 90 years, which ultimately made ITC the ideal partner. Bringing together two of the top 10 convenience store distributors in the U.S. will change the marketplace and positions the combined entity for near- and long-term success." said Andrew Dickow, Managing Director of GCG.
CLICK HERE for the official press release.