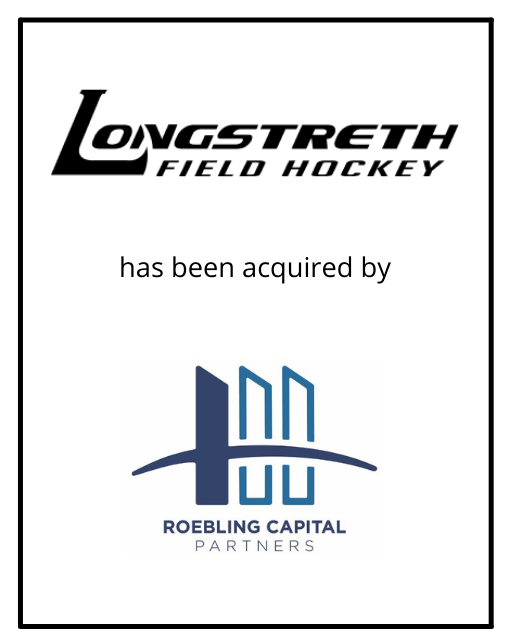 Greenwich Capital Group ("GCG") is pleased to announce its role as the exclusive financial advisor to Longstreth Sporting Goods, LLC ("Longstreth" or the "Company") on its sale to Roebling Capital Partners ("Roebling"). This transaction adds to GCG's extensive experience in the consumer products and e-commerce sectors.
About the Transaction
Since being founded by Barbara Longstreth in 1977, Longstreth's mission has been to offer the best selection of equipment, performance apparel, and footwear for its female customers. Specializing in field hockey, the Company has been committed to supporting the development of female athletes in the United States for more than 40 years and has grown to become one of the nation's leading and most recognized brands.
Wes Goebel, Partner and Managing Director at Roebling Capital Partners, said "We were incredibly impressed with the brand recognition that the Longstreth name holds in the field hockey market, John and David have done an exceptional job capitalizing on the legacy brand and propelling it to new heights since they acquired it. They are one of the most experienced management teams we've run across, and we're extremely excited to get to work catalyzing long-term growth for Longstreth and the team."
"Dave and I were impressed with Andrew's expertise in the Consumer Products sector, and we feel Andrew, Anthony, and the entire Greenwich team worked to understand Longstreth, our strong market and financial positions, and our future growth opportunities.  Greenwich was incredibly thorough in positioning us, and leveraged a full process to maximize our value with the right partner moving forward. We are confident we achieved our best outcome by working with Greenwich, and we enthusiastically endorse Andrew and the entire Greenwich team." said John Schaefer, Owner of Longstreth.
"From the moment we began this journey, our mission was crystal clear: to honor and elevate the foundation laid out by Barbara Longrstreth and continued by John and Dave. We needed a partner attuned to the aspirations of the shareholders and employees that aligned with Longstreth's ethos. With Roebling Capital Partners, we found more than just a partner. We found a shared vision, a dedication to the mission, and a commitment to advancing the legacy of Longstreth with care and precision," said Andrew Dickow, Managing Director of GCG.
About Longstreth Sporting Goods, LLC
Longstreth is the most recognized field hockey brand in the United States and is based in Spring City, Pennsylvania, founded in 1977 by Barbara Longstreth. For more than 40 years, Longstreth has been committed to supporting the development of female athletes across women's sports, specializing in field hockey. The Company's mission is to offer the best selection of equipment, performance apparel, and footwear — almost all of which are specifically designed for the female athlete. Longstreth's managers are experts in their field. The Company has field hockey specialists, current and former athletes, and coaches, who know their game inside and out, providing expertise in developing and sourcing the best products available to support female athletes. They work closely with our suppliers to develop and provide the best possible products to keep young female athletes at the top of their game.
About Roebling Capital Partners
Roebling Capital Partners is headquartered in Cincinnati, Ohio and combines private equity investing expertise with a partnership mindset to help drive results that unlock true value. At Roebling, businesses and investors work with a highly experienced investment team with a range of expertise and skillsets, including experience originating and executing investments with value-add and growth potential. Roebling partners with business leadership on critical corporate governance decisions in companies vetted for growth potential and cultural fit.