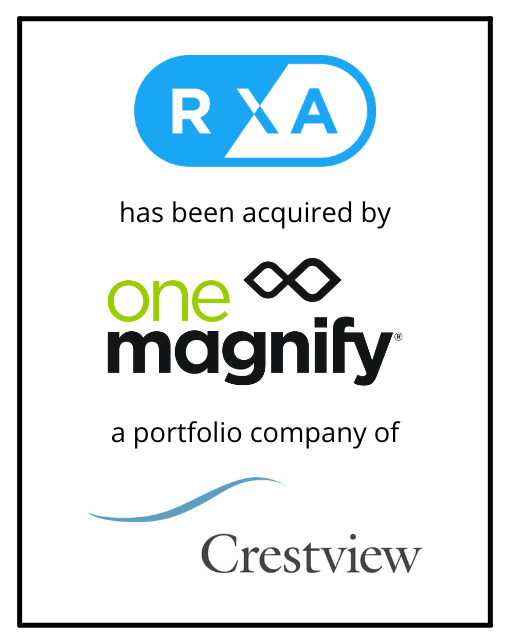 Greenwich Capital Group ("GCG") is pleased to announce its role as the exclusive financial advisor to RXA (the "Company") on its sale to OneMagnify, a portfolio company of Crestview Partners ("Crestview"). This transaction adds to GCG's extensive experience in the business services, data science, and marketing technology sectors.
About the Transaction
Founded in 2016 and based in Ann Arbor, MI, RXA is a leading provider of business data analytics and AI solutions, employing machine learning, advanced algorithms, and generative AI to enable its clients to make better decisions. RXA's advanced technology and skilled team are poised to augment OneMagnify's successful analytics and insights capabilities, accelerate its growth, and expand its market opportunity. The integration of OneMagnify and RXA's combined capabilities will enhance existing service offerings, drive innovation, and provide exceptional value to clients. RXA employees, including the leadership team, will join OneMagnify's existing teams and work collaboratively to provide comprehensive client support.
Mark Petroff, CEO of OneMagnify, stated, "We welcome RXA and its impressive team to OneMagnify. The combination of our marketing and data-driven solutions with RXA's AI technology and talent will help to accelerate our growth and allow us to deliver an expanded suite of data science services to our clients."
"Joining forces with OneMagnify will enable us to broaden our expertise, offer a wider range of solutions to our clients, and create new career opportunities for our team," said Jason Harper, CEO of RXA. "We are excited to become part of OneMagnify and look forward to a future of growth and innovation together."
"Andrew and the team at GCG exceeded all expectations during the acquisition of RXA, demonstrating exceptional professionalism, patience, and a deep understanding of our business. Their constant availability and willingness to work around the clock to ensure a successful outcome make them true rock stars in the investment banking space. I would recommend GCG without hesitation to any middle-market business looking for an outstanding advisor and partner throughout the transaction process," said Jason Harper, Founder and CEO of RXA.
"The shareholders' and employees' objectives and concerns were the utmost priority throughout the process. RXA was looking for a partner with an exceptional reputation and advanced capabilities that would be synergistic with its own. OneMagnify and Crestview were able to provide not only a complementary service offering and great cultural fit, but also a seamless transition for RXA's customers, employees and partners, which ultimately made them the ideal partner," said Andrew Dickow, Managing Director of GCG.
About RXA
RXA is a leading provider of data analytics and artificial intelligence solutions that help businesses unlock the true potential of their data. With a focus on machine learning, advanced algorithms, and generative AI, RXA transforms complex data sets into actionable insights, enabling companies to make smarter decisions, optimize operations, and accelerate growth. As a leader in Domo consulting, RXA was named the Domo Partner of the Year in 2022, further demonstrating their expertise and commitment to delivering top-notch solutions for their clients. RXA is also proud to be an award-winning partner to additional leading technology providers including DataRobot, Alteryx, Tableau and AWS.
About OneMagnify
Originally founded in 1967, OneMagnify has evolved to become a full-service, global marketing company that combines compelling brand communications with technology solutions and actionable analytics to deliver measurable results. Through creativity and problem solving, our team powers business performance with actionable analytics and data; compelling marketing communications through brand strategy; and technology solutions. Applied individually—or fully integrated for greater impact—these three core services can amplify clients' businesses, deliver real-time results, and separate them from competitors. OneMagnify offices are located in Detroit, MI; Wilmington, DE; Charlotte, NC; Shanghai, China; Cologne, Germany; and Chennai, India.
About Crestview Partners
Founded in 2004, Crestview is a value-oriented private equity firm focused on the middle market. The firm is based in New York and manages funds with approximately $10 billion of aggregate capital commitments. The firm is led by a group of partners who have complementary experience and distinguished backgrounds in private equity, finance, operations and management. Crestview has senior investment professionals focused on sourcing and managing investments in each of the specialty areas of the firm: industrials, media and financial services. For more information, please visit www.crestview.com.