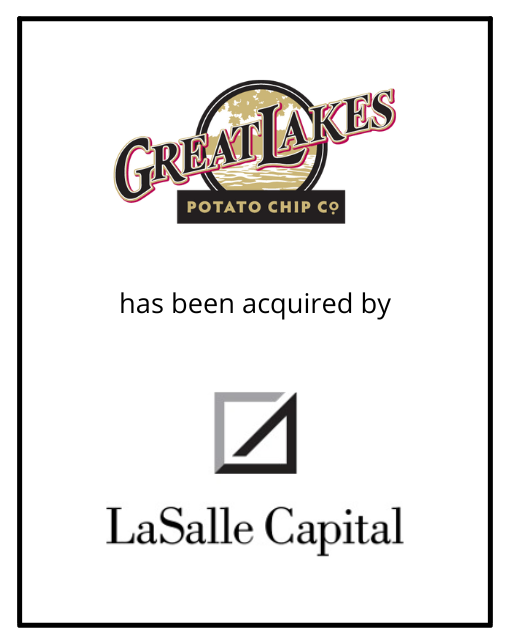 Greenwich Capital Group ("GCG") is pleased to announce its role as the exclusive financial advisor to Great Lakes Potato Chip Company ("GLPCC" or the "Company") on its sale to LaSalle Capital ("LaSalle"). This transaction adds to GCG's extensive experience in the consumer-branded goods and food and beverage sector.
About the Transaction
Founded by Ed and Chris Girrbach in 2009, Great Lakes Potato Chip Company has been producing high-quality, hand-crafted kettle chips, with the skin on, that are lighter on the palate and have a great crunch and delicious flavor. The Company was founded on Midwestern principles of hard work, character, and purpose. GLPCC's product is produced in Michigan with almost 100% Midwestern potatoes. The Company services its community by supporting local agriculture and the surrounding community.
David Murav, Partner at LaSalle Capital, said, "We could not be more excited to partner with Chris and the entire Great Lakes team. They have developed a great-tasting product and incredible brand, and we look forward to accelerating growth to new states and accounts so that more consumers have access to these fantastic chips." Andrew Dzwonchyk, Partner at LaSalle Capital, added, "Ed and Chris built a preeminent reputation around manufacturing the highest quality kettle-cooked chips with bold flavor profiles. We are delighted to assist the Company in achieving its next level of growth."
"Andrew and his team were simply the most efficient and comprehensive team for marketing and executing the sale of our business. Andrew and the team were punctual and diligent in keeping our team up to speed on the progression of the sale. There was no opportunity to maximize our value that was left unturned. I would highly recommend Andrew and the team at Greenwich," said Chris Girrbach, CEO of Great Lakes Potato Chip Company.
"The shareholders' objectives were front of mind throughout the entire process. We focused on finding a strategic partner that would see the intrinsic value the Girrbach family has built in Great Lakes over the last 11 years. In addition, we prioritized finding a partner that could bring additional resources and allow for a seamless transition for all of its suppliers, employees, and customers, which ultimately made LaSalle Capital the ideal partner," said Andrew Dickow, Managing Director of GCG.
About Great Lakes Potato Chip Company
Great Lakes Potato Chip Company is a premier potato chip manufacturer based in Traverse City, Michigan, founded by the father and son team of Ed and Chris Girrbach. The Company is rooted in modest beginnings since its inception in 2009 when Ed and Chris pulled their Dodge pick-up truck in line at a local potato farm waiting to load what would become GLPCC's first batch of Michigan potatoes. The Company has grown from selling to local retailers to working with leading distributors and customers across the Midwest and beyond. GLPCC produces quality products in a safe, clean, and productive environment while always striving to advance quality, and they stand by their promise of "a great tasting chip in every bag every time."
About LaSalle Capital
Headquartered in Chicago, Illinois, LaSalle Capital has partnered with numerous manufacturers and service providers in the food and beverage ecosystem within the lower-middle market to drive growth and create value. LaSalle utilizes a strategic and hands-on investment approach that respects the knowledge and experience of those who built and operate the businesses with which they invest and leverages their deep industry expertise to support future growth and margin enhancement.