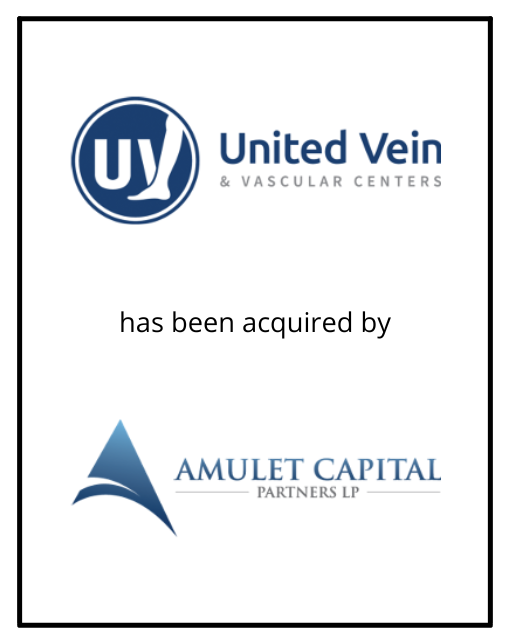 Greenwich Capital Group ("GCG") is pleased to announce its role as the exclusive financial advisor to United Vein & Vascular Centers ("UVVC" or the "Company") on its acquisition by Amulet Capital Partners, LP ("Amulet"). This transaction adds to GCG's extensive experience in the healthcare services sector.
About the Transaction
Established in Florida in 2014, UVVC has grown its footprint nationwide over the last eight years and expanded its platform to provide comprehensive vascular care treatments and services across a range of vein, arterial and persistent wound conditions. The Company's physicians are board-certified surgeons and vein specialists committed to advancing the latest technologies in vascular treatment and providing the highest quality care while delivering an all-inclusive clinic experience for patients. Today, UVVC operates more than 30 clinical locations across Florida, Illinois, Colorado, and Arizona, with plans to add more locations in both new and existing markets.
In partnering with UVVC, Amulet will support the Company's long-term growth objectives and the expansion of high-quality treatment capabilities as patient demand for more accessible, office-based treatment settings continues to grow. Amulet will work closely with management to strategically grow the Company's network of office locations and service mix in both existing and new markets and provide care for more complex lower extremity vascular conditions.
"UVVC has built a tremendous business by focusing on quality patient care and offering its services to a broad market. GCG focused on finding the best partner for UVVC in order to help facilitate further expansion and growth. Amulet's experience with rapidly growing companies in the healthcare industry made them an ideal fit for UVVC," said Brian Hock, Managing Director of GCG.
UVVC will continue to be led by founder and CEO Dr. Gamal Wazni and the existing management team as the Company builds on its strong track record of organic growth and commitment to patient outcomes.
"On behalf of the entire GCG deal team, it was a pleasure representing UVVC through this milestone transaction to support Dr. Wazni's vision for the growth of this emerging vein and vascular platform," said Joe Schmitt, Managing Director of GCG.  "This transaction is representative of the macro trends we're seeing across healthcare services more broadly – where entrepreneurial-minded physicians have built high-quality managed services organizations that attract collaborative partnerships from private equity investors."
About United Vein & Vascular Centers
United Vein Centers & Vascular Centers operates IAC accredited facilities with office locations serving patients across the nation. The board-certified physicians are vein and vascular experts, supported by thoroughly trained staff, and educated in all aspects of vascular health. Through superior clinical practice and by employing the latest in vein and vascular care technologies, UVVC physicians help patients improve their quality of life by relieving symptoms such as pain, aching, and swelling and mitigating downstream exacerbations caused by vascular disease. UVVC's mission is to keep patients as healthy and active as possible, allowing them to return to their ideal lifestyle.
About Amulet Capital Partners
Amulet Capital Partners is a middle-market private equity investment firm based in Greenwich, CT, focused exclusively on the healthcare sector. Amulet seeks to achieve long-term capital appreciation through privately negotiated investments in healthcare companies. Amulet focuses on those segments it believes have the most attractive long-term fundamentals with a target investment size between $50 million to $150 million.
Click Here for the official press release.