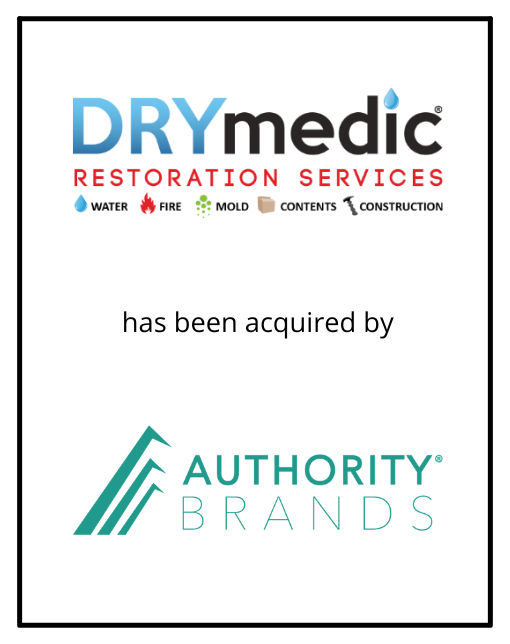 Greenwich Capital Group ("GCG") is pleased to announce its role as the exclusive financial advisor to DRYmedic Restoration Services ("DRYmedic") on its sale to Authority Brands. This transaction adds to GCG's experience in the restoration and business services sector.
About the Transaction
Founded by Carlos Hesano and Benjamin Gergis in 2014, DRYmedic has been helping bring families and businesses back to life after disaster. What started as a family business with one truck has grown to serve the Detroit, Michigan region with over 40 trucks, providing a full range of disaster restoration services that take clients from cleanup to complete recovery from fire, flood, storm, mold and asbestos.
"DRYmedic is the perfect addition to the Authority Brands portfolio, complementing the suite of professional home services our brands provide," said Craig Donaldson, CEO of Authority Brands. "This year marks Authority Brands' 5th anniversary and over that time, we have achieved impressive growth, responding to the increased demand for home services by expanding our portfolio with thoughtful concepts that benefit owners and clientele alike. We are thrilled to support DRYmedic as their business expands and provide resources to help the company achieve their growth goals."
"Andrew and the Greenwich team had tremendous attention to detail throughout the entire transaction process. Their knowledge and ability to communicate and navigate our company through all of the intricate deal points were crucial to the transaction's success. GCG held detailed strategy sessions about upcoming steps in the deal process that were extremely helpful in preparing management for very real conversations that took place throughout the course of the transaction," said Carlos Hesano, CEO of DRYmedic Restoration Services.
"We focused on finding the right strategic partner that would enable DRYmedic Restoration Services to become a national brand. In addition, we prioritized finding a partner that would allow for a seamless transition for all of its vendors, employees, and customers, which ultimately made Authority Brands the ideal partner," said Andrew Dickow, Managing Director of GCG.
About DRYmedic
"Like many start-ups, the DRYmedic concept was born to fill a need; the need to bring top-quality, professional restoration services to homeowners without the long wait, insurance hassles, or red-tape. We wanted our customers to feel like a priority, not a number. And we wanted them to know that no matter what, we were here for them from their first phone call to complete recovery. The team at DRYmedic has over 25 years of experience in the industry.
About Authority Brands
Headquartered in Columbia, Maryland, Authority Brands' companies include 12 leading home service franchisors: America's Swimming Pool Company, Benjamin Franklin Plumbing, The Cleaning Authority, Color World Painting, DoodyCalls, Homewatch CareGivers, Mister Sparky, Monster Tree Service, Mosquito Squad, One Hour Heating & Air Conditioning, STOP Restoration, and Woofie's. Together, these brands provide home services through more than 1,900 territories operated by more than 1,000 franchise owners. Authority Brands is dedicated to supporting individual franchise owner growth by providing strong marketing, technology, and operational support. See www.authoritybrands.com for more information.