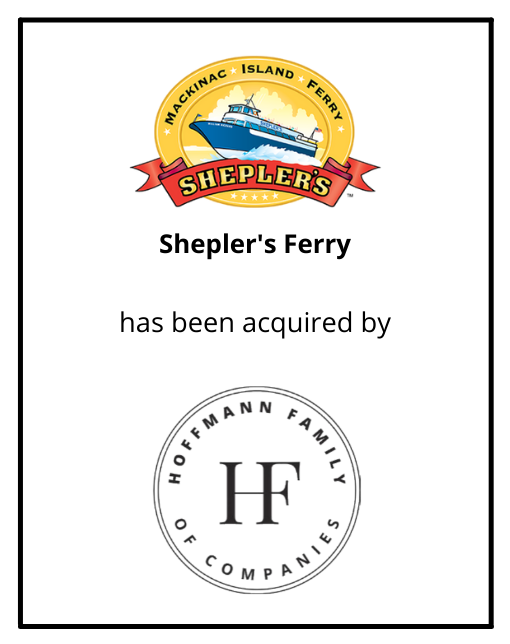 Greenwich Capital Group ("GCG") is pleased to announce its role as the exclusive financial advisor to Shepler's Ferry Inc. on its partnership with The Hoffmann Family of Companies. This transaction adds to GCG's experience in Consumer Services and Transportation.
About the Transaction
Since 1945, the Shepler family has prided itself on getting people and families from around the world to and from Mackinac Island with a first-class experience. With this dedication to guest services in mind, Shepler's is proud to announce a partnership with the Hoffmann Family of Companies.
Shepler's has seen steady growth over the past five years despite the pandemic. Its seven ferries shuttle about 650,000 passengers between April and November to Mackinac Island — from Mackinaw City and St. Ignace through the Straits of Mackinac.
"We focused on finding the right strategic partner that would maintain the first-class customer experience and provide the same level of service that generations of visitors have come to expect, which ultimately made The Hoffmann Family of Companies the ideal partner," said Bob Coury, Managing Director and CEO of GCG.
About Shepler's Ferry Inc.
The Shepler's entities provide ferry transportation and other services from Mackinaw City and St. Ignace, Michigan to Mackinac Island, Michigan, a popular tourist destination accessible only by boat or plane. The Company was founded in 1945 and is currently owned by the third generation: Chris, Patty, and Billy Shepler. Shepler's operates from two docks on Michigan's mainland, one in Mackinaw City and one in St. Ignace. In addition to transportation, the Company also provides day and overnight parking, marine storage, cruises, bike transportation, tours, and more. A family-owned enterprise for 75+ years, Shepler's is known for providing excellent service to both residents of Northern Michigan and seasonal tourists from around the world.
About The Hoffmann Family of Companies
The Hoffmann family founded DHR International based in Chicago, one of the world's largest independently owned executive search firms that specializes in C-suite placements and athletic matches. Today it is a multibillion-dollar operation with a presence in 27 different countries, including Europe, China, Latin America, and South America and generates the capital used by the Hoffmann Family of Companies to make various investments. Jerri and David Hoffmann and their sons, Greg and Geoff, run one of those such investments, the Naples Princess cruise based in Naples, Fla., as well as the Volunteer Princess cruise boat on the Tennessee River in Knoxville and the Miss Augusta cruise boat on the Missouri River in eastern Missouri's wine country.