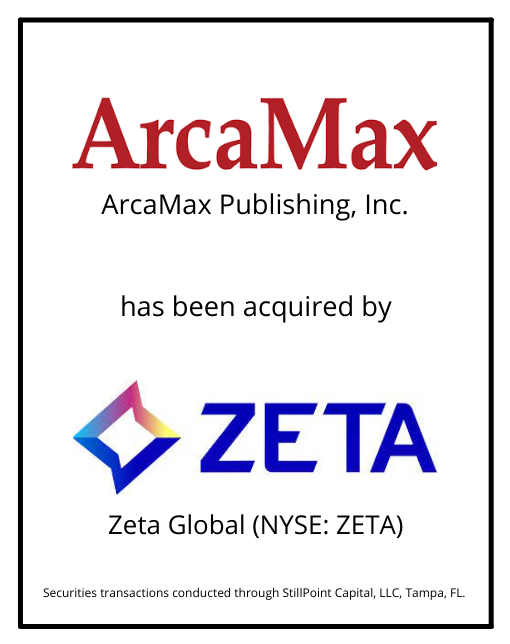 Greenwich Capital Group ("GCG") is pleased to announce its role as the exclusive investment banker to ArcaMax Publishing, Inc. ("ArcaMax" or the "Company") on its merger with Zeta Global Holdings Corp. (NYSE:ZETA). This transaction adds to GCG's extensive experience in the digital media and marketing services sector.
About the Transaction
GCG acted as the exclusive investment banker to the Company in assisting with the structuring and execution of a merger with Zeta Global Holdings Corp. Zeta is a longstanding partner of the Company and the Company's shareholders believed that numerous synergies would be realized through the combination.
"The ArcaMax team is incredibly proud to be joining forces with the Zeta Global team to continue our mission to deliver engaging content to our devoted readers, provide opportunities for our dedicated team, and expand our impact. Integrating with Zeta's innovative platform technology will give us opportunities to grow our portfolio, increase the size of our audience, and provide more value for marketers," said Roy Jay, Chairman of ArcaMax.
"After exploring strategic and financial alternatives, the merger with Zeta enables the Company to continue to thrive and realize significant synergies. The strategic merger also enables the management of ArcaMax to continue to execute significant opportunities for future growth. We were happy to assist ArcaMax and its management in achieving its goals," said Jeff Cruz, Managing Director of GCG.
About the Company
ArcaMax is a leader in the development and distribution of more than 400 interest-based newsletters to consumers in the United States. They distribute news and syndicated features to a growing opted-in subscriber audience of four million readers. Founded in 1999, ArcaMax has worked with leading media services and publishers for over 20 years, providing clients with opportunities to manage, deploy, and monetize their distribution strategies. The company is headquartered in Virginia.
About Zeta
Zeta Global Holdings Corp. (NYSE: ZETA) is a leading data-driven, cloud-based marketing technology company that empowers enterprises to acquire, grow and retain customers more efficiently. The Company's Zeta Marketing Platform (the "ZMP") is the largest omnichannel marketing platform with identity data at its core. The ZMP analyzes billions of structured and unstructured data points to predict consumer intent by leveraging sophisticated artificial intelligence to personalize experiences at scale. Founded in 2007 by David A. Steinberg and John Sculley, the Company is headquartered in New York City.