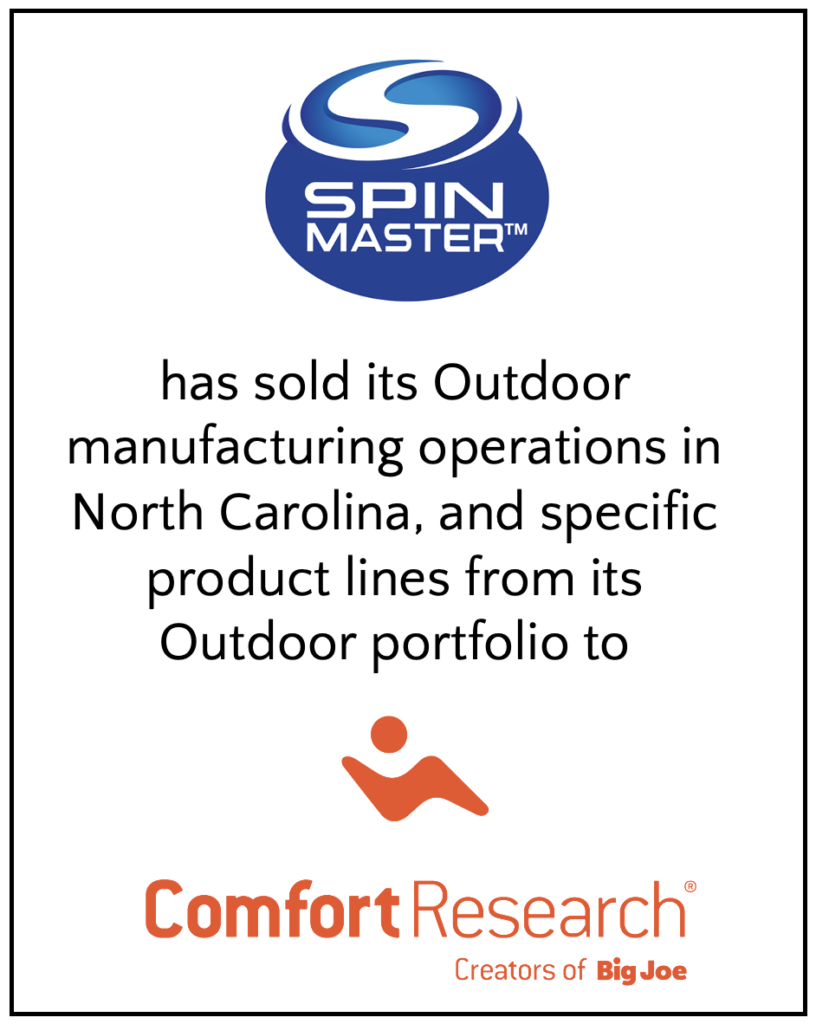 Greenwich Capital Group ("GCG") is pleased to announce its role as the exclusive financial advisor to Spin Master Corp. (TSX: TOY) on the sale of its Outdoor manufacturing operations in Tarboro, North Carolina, and specific product lines from Spin Master's Outdoor portfolio to Comfort Research. This transaction adds to GCG's experience in Corporate Divestitures and Consumer Products.
About the Transaction
Spin Master has divested its High-Performance Aquaria Swim Float line, featuring proprietary "Aqua Cell" technology that resists weather, aging, ultraviolet rays, and water absorption. Spin Master's "Swim Noodle" products, including the Mega Noodle and Aqua Rider Squirter product line, are also included in the acquisition.
Spin Master's 268,000 square foot manufacturing plant, with a capacity of 18MM + units per year, and a 90,000 square foot distribution facility in Tarboro, North Carolina, are also part of the acquisition. Comfort Research® has offered employment to employees in these two Tarboro facilities.
"GCG provided step-by-step guidance throughout the entire process. They represented our company very professionally and were always available to meet our needs. Their experience and expertise delivered the right partner for our customers," said Tyler Bunker, Vice President of Corporate Development for Spin Master Corp.
"We focused on finding the right strategic partner that would allow the business to continue to thrive with a seamless transition for all customers, which ultimately made Comfort Research the ideal partner," said Andrew Dickow, Managing Director of GCG.
About Spin Master Corp.
Spin Master Corp. is a leading global children's entertainment company creating exceptional play experiences through a diverse portfolio of innovative toys, entertainment franchises, and digital games. Spin Master is best known for award-winning brands PAW Patrol®, Bakugan®, Kinetic Sand®, Air Hogs®, Hatchimals®, and GUND®, and is the toy licensee for other popular properties.  Spin Master Entertainment creates and produces compelling multiplatform content, stories, and endearing characters through its in-house studio and partnerships with outside creators, including the preschool success PAW Patrol and 10 other television series distributed in more than 160 countries. The Company has an established digital presence anchored by the Toca Boca® and Sago Mini® brands, which combined have more than 25 million monthly active users. With over 1,800 employees in 28 offices globally, Spin Master distributes products in more than 100 countries.
About Comfort Research
Based in Grand Rapids, Michigan, Co-Founders Matt Jung, and Chip George began revolutionizing affordable, fun furniture from their college dorm in 1997. Comfort Research® has now sold over 25 million units, with over 100 patents and trademarks, and operates in three state-of-the-art plants with more than 275 employees across the US. While we're no longer using a woodchipper to shred foam, we're still committed to making products you'll love that are stylish, durable, fun, and, most importantly, absurdly awesome.