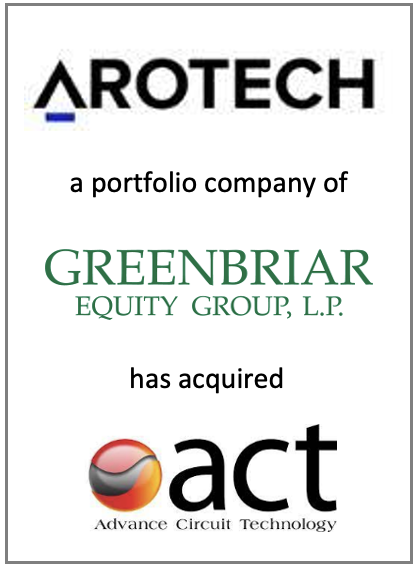 Greenwich Capital Group (GCG) is pleased to announce its role as an advisor to The Arotech Corporation (Arotech) on the acquisition of Advance Circuit Technology (ACT). This transaction adds to GCG's extensive experience within aerospace and defense and electronics manufacturing services.
About the Transaction
Arotech's Advanced Electronics Division (AED) acquired ACT, a privately held corporation in Rochester, NY. ACT brings new and synergistic capabilities to Arotech with its mission-critical printed circuit board and microelectronic assemblies technologies.
The addition of ACT expands AED's electronics manufacturing service capabilities and increases its operational capacity, helping to meet the growing demand from existing defense, communications, and medical market customers.
AED provides high-end defense electronics and power distribution solutions primarily for the defense and medical markets with development expertise across a variety of electronic assembly design and build disciplines. Arotech is a defense and security company made up of two divisions: Advanced Electronics and Training and Simulation. Arotech is incorporated in Delaware, with corporate offices in Ann Arbor, Michigan.