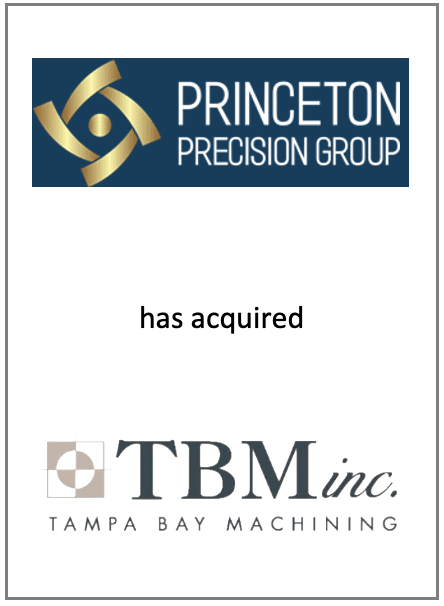 Greenwich Capital Group ("GCG") is pleased to announce its role as the exclusive financial advisor to Princeton Precision Group ("PPG") on the acquisition of Tampa Bay Machining. This transaction adds to GCG's extensive experience within aerospace and defense and precision machining.
About the Transaction
PPG is a leading supplier of precision machining solutions across the aerospace, space, industrial gas turbine, medical, and electronic industries. PPG's operations include six facilities in Mentor, Ohio; Tampa, Florida; and Valencia, California.
Established over 40 years ago, Tampa Bay Machining manufactures complex precision machined components from aluminum, stainless steel, and titanium. Applications for manufactured components range from missile guidance systems & military avionics to commercial grade spectrometers.
PPG serves customers including Aerojet Rocketdyne, Blue Origin, Chromalloy, Consolidated Precision Products, Curtiss-Wright, Circor, Doncasters, GE, Lockheed Martin, Northrop Grumman, Parker Hannifin, Precision Castparts, Raytheon, Rolls-Royce, SAFRAN, Smiths Interconnect, SpaceX, Williams International and Woodward, among others. PPG will continue to focus on growth organically and through acquisitions.