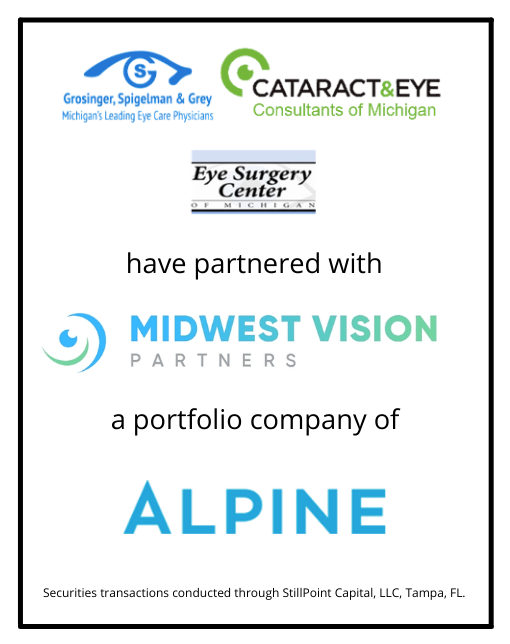 Greenwich Capital Group ("GCG") is pleased to announce its role as the exclusive investment banker to Grosinger, Spigelman & Grey ("GSG"), Cataract and Eye Consultants of Michigan ("CECOM") and Eye Surgery Center of Michigan ("ESCM"), or the "Practices", on its partnership with Midwest Vision Partners ("MVP"), a portfolio company of Alpine Investors. This transaction adds to GCG's extensive experience within the healthcare services and physician practice management sectors.
About the Transaction
GSG and CECOM provide a comprehensive suite of medical and surgical eye care services, including premium cataract surgery, laser vision correction, disease management treatments, and retina services. ESCM is an award-winning, single-specialty ambulatory surgery center supporting leading ophthalmologists in Greater Detroit. Collectively, the groups employ seven physicians and over 150 employees operating out of four locations. An increasing demand for their services, combined with a robust network of referral relationships and a market-leading reputation has resulted in a network of ophthalmological providers that had established themselves for outside investment. GCG was hired in 2020 as the exclusive financial advisor to the Practices, tasked with assisting the partners to identify a strategic partner to provide the resources and capital necessary to help them expand their growing ophthalmology platform in Southeast Michigan.
"Greenwich Capital Group advised us through a competitive process to find the proper partner in MVP. Joe Schmitt and the Greenwich team were there for us at every step of the way", said Dr. Les Grosinger, GSG.
"GCG was a pleasure to work with throughout the entire process. These transactions can be very stressful, and the Greenwich team was always there to calmly keep things moving forward", added Dr. Alan Parent, CECOM.
GCG brings deep transaction experience and trusted advisory to physician practices, as private equity and strategic industry consolidators continue to seek out acquisition opportunities across ophthalmology and a range of other specialties.
About Midwest Vision Partners
Headquartered in Chicago, Midwest Vision Partners' mission is to provide world-class support to ophthalmologists and optometrists, enabling them to focus on improving patients' vision to help people live their best lives. MVP's network consists of ten practices, over 1,000 employees, and over 108 physicians providing optical, medical, and surgical eye care services at 48 locations. MVP is backed by Alpine Investors, a San Francisco-based PeopleFirstTM private equity firm focused primarily on software and service businesses.
About Alpine Investors
Alpine is a people-driven private equity firm committed to building enduring companies by working with, learning from, and developing exceptional people. Alpine specializes in middle-market companies in the software and services industries. Alpine's unique PeopleFirstTM programs place high-caliber executives and management teams into its portfolio companies, providing them with the strategic expertise and resources to grow their businesses.