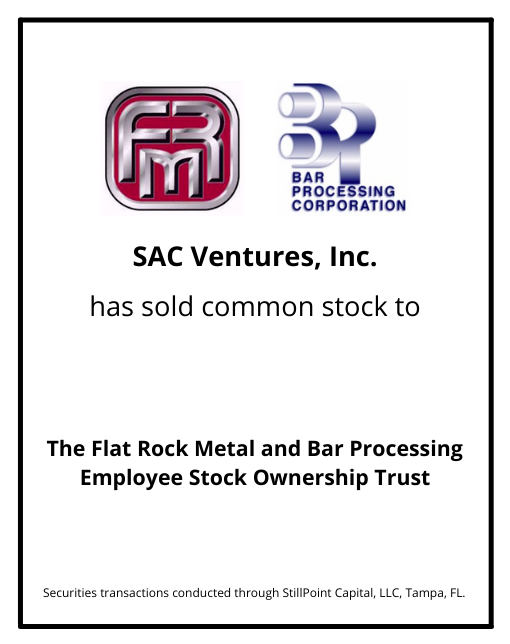 Greenwich Capital Group ("GCG") is pleased to announce its role as the exclusive investment banker to SAC Ventures, Inc. and its subsidiaries (the "Company"), including Flat Rock Metal, Inc. ("FRM") and Bar Processing Corporation ("BPC"), on its sale to the Flat Rock Metal and Bar Processing Employee Stock Ownership Plan ("ESOP"). This transaction adds to GCG's extensive experience in the automotive and industrials sector and ESOP advisory.
About the Company
FRM, headquartered in Flat Rock, MI, is a family-owned and operated, high-quality steel toll processor specializing in critical surface sheet and coil processing for OEMs, Tier 1 suppliers, and steel mills. FRM has nearly 40 years of toll processing expertise and is the contracted processor of choice for the entire North American chrome bumper market.
BPC, also headquartered in Flat Rock, MI, is the largest independent toll processor of special bar quality steel in North America. BPC specializes in a variety of value-added processing capabilities, including straightening, turning, burnishing, grinding, cutting, and non-destructive testing for some of the largest steel mills in North America, as well as brokers, warehouses, distributors, and end-users.
Together, with over 500 employees and seven locations across Michigan, Ohio, and Illinois, the Company is recognized as a critical, value-added steel processing provider for the automotive industry.
About the Transaction
GCG acted as the exclusive financial advisor to the Company in assisting with the evaluation of its strategic options. After analyzing the automotive and steel industry, market dynamics, and key factors important to ownership, a sale of common stock to the ESOP was determined to be the best path to achieving the shareholder's goals.
"Over the years we have received numerous acquisition offers from companies in our industry, which is a testament to the quality of our services and our strong industry-wide reputation. We discussed our succession planning options with GCG and ultimately decided an ESOP sale was the best path forward. This will allow us to preserve our legacy and take care of the employees that helped us build this company over the last 40 years. We are proud to say our 500+ employees will now have the ability to participate in the ownership of the Company," said Paul Lanzon, CEO.
"ESOPs offer a tax-advantaged succession planning strategy that provides shareholders with liquidity while also rewarding employees.  As we assisted the shareholders of the Company with evaluating their exit planning options, it became clear that taking care of their employees and maintaining their legacy were the primary goals of ownership. A sale to an ESOP accomplished these goals while providing a great outcome for all parties," said Brian Hock, Managing Director at GCG.