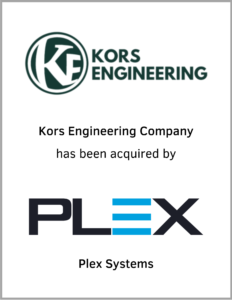 Greenwich Capital Group ("GCG") is pleased to announce its role as the exclusive financial advisor to Kors Engineering Company ("Kors") on its sale to Plex Systems ("Plex"), the leader in cloud-delivered smart manufacturing solutions. This transaction adds to GCG's extensive experience within the Software as a Service ("SaaS") and Technology sector.
About the Transaction
Kors Engineering is a leading provider of plant floor connectivity and manufacturing process automation software for manufacturers and other industrial facilities. The Waterford, Michigan-based company has been providing efficient systems to customers in Southeast Michigan and the Midwest across several markets for over 40 years.
Plex Systems is the leader in cloud-delivered smart manufacturing solutions and has been a cloud ERP/MRP provider since the late 1990s. Headquartered in Troy, Michigan, Plex serves more than 650 customers across 29 countries and counting.
Kors Engineering has been a long-time partner of Plex, integrating their technology solutions for over 20 years. Kors' SaaS offering, Mach2, drives plant-floor connectivity, production dashboards, and process automation for hundreds of Plex-powered plants today. Adding Mach2 to Plex's Smart Manufacturing Platform creates a combined solution many manufacturers are looking for as the demand for greater control, accuracy, and speed in their business increases.
"After engaging GCG, I learned a successful outcome was truly tied to the quality of our advisor and the process they would run through the full transaction lifecycle. GCG's comprehensive advisory across all facets, including business strategy, finance, and the overall sale process, generated significant value for us during and following the closing of our deal. Their broad skill set in financial analysis, legal coordination, due diligence, and negotiations set the standard for how a deal should be run. GCG is a world-class investment bank that I would recommend to any middle-market business," said Tony Kaczmarek, President of Kors Engineering.
"The shareholders' objectives were paramount throughout the entire process. We focused on finding the right strategic partner that would see the intrinsic value the Kors Engineering team has built over the last 40 years, which ultimately made Plex Systems the ideal partner. Bringing together the two companies will be a huge win for their manufacturing customers," said Andrew Dickow, Managing Director of GCG.
Click here for the official press release.