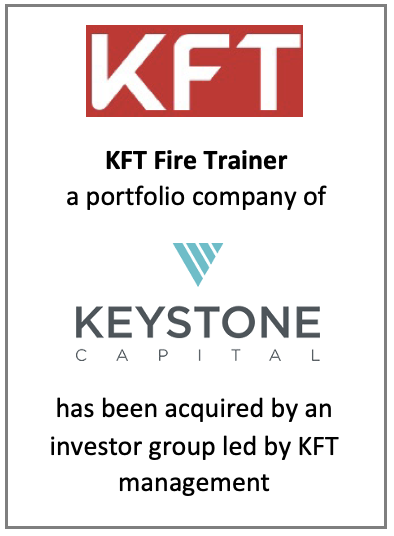 Greenwich Capital Group ("GCG") is pleased to announce its role as the exclusive financial advisor to Keystone Capital on the sale of KFT Fire Trainer ("KFT") to an investor group led by KFT management. This transaction adds to GCG's extensive experience within training and simulation as well as aviation and military sectors.
About the Transaction
Headquartered in Montvale, NJ with additional offices in the United Kingdom and Germany, KFT is focused on the planning, manufacture, distribution, installation and service of fire simulation equipment and systems for training purposes. In its over 35 years in business, it has become the world's leading supplier of computer-controlled, gas-fueled, live fire training systems.
KFT's training systems, controlled by computer and fueled by propane or natural gas; allow realistic fire training in a safe and environmentally sound manner. These training systems have been widely adopted by municipal, airport and industrial fire departments as well as military and maritime fire training organizations worldwide. The company has served over 700 customer sites in 40 countries.
Headquartered in Chicago, IL, Keystone Capital has been investing its personal capital into businesses for over 20 years. Keystone's investments focus on a mutual commitment with management to thoughtfully and patiently build sustainable, market-leading businesses.