GCG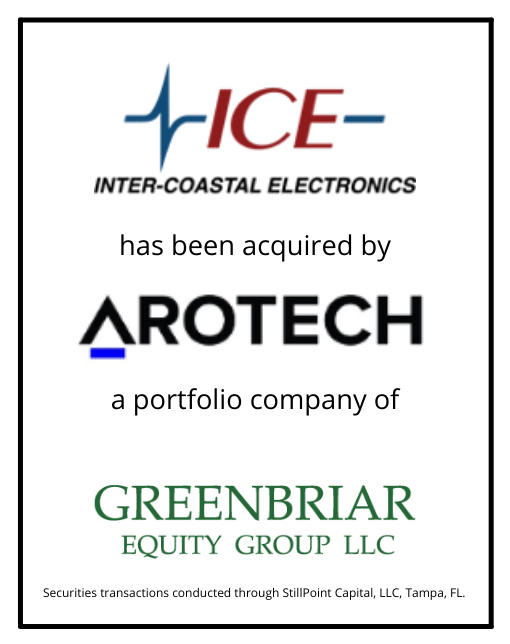 Greenwich Capital Group ("GCG") is pleased to announce its role as the exclusive financial advisor to Inter-Coastal Electronics, Inc. ("ICE") on its sale to Arotech Corporation ("Arotech"), a portfolio company of Greenbriar Equity Group, L.P. ("Greenbriar"). This transaction adds to GCG's extensive experience in the Aerospace and Defense sector.
About the Transaction
For over 30 years, ICE has been a leading provider of live training and test instrumentation systems. ICE designs, manufactures, and supports complex instrumentation ecosystems supporting strategic military training objectives. As the primary source for the Apache helicopter's live training capability, ICE is a global supplier and recognized domain leader. ICE is headquartered in Mesa, Arizona.
Headquartered in Ann Arbor, Michigan, Arotech Corporation is a defense and security company engaged in two business areas: training and simulation, and power systems. ICE will join Arotech's  Training and Simulation Division ("ATSD"), which develops, manufactures, and markets advanced high-tech multimedia and interactive digital solutions for engineering, use-of-force, and operator training simulations for military, law enforcement, security, municipal and private industry personnel.
The entities share a dedication to quality creative technical solutions and a capable workforce motivated to continually advance the state of the art in training solutions. The addition of ICE expands ATSD's aviation solution set and adds a vertically integrated manufacturing capability. Synergetic overlap with existing customers and the ability to provide a broader spectrum of training solutions will be beneficial as ATSD expands into the rest of the 21st century.
In December 2019, Arotech Corporation was acquired by Greenbriar, a Rye, New York based private equity firm. As a result of that transaction, Arotech became a private company and its shares are no longer publicly listed. Since its founding in 1999, Greenbriar has raised over $3.5 billion of committed capital across four funds, acquiring 31 platform companies and 51 add-on acquisitions to date.
"I am excited by the opportunities this acquisition presents for ICE's employees and the resources it avails," said Shawn Kirkpatrick, President of ICE. "I am confident that we are joining an organization that shares our common spirit and drive, enabling us to build upon our legacy of success. GCG provided significant insight, options and value to us as an advisor, maintaining a consistent focus on achieving shareholder objectives and helping us find the right partner in Arotech." Mr. Kirkpatrick will continue in his role as President of ICE.
Click here for the official ICE press release.