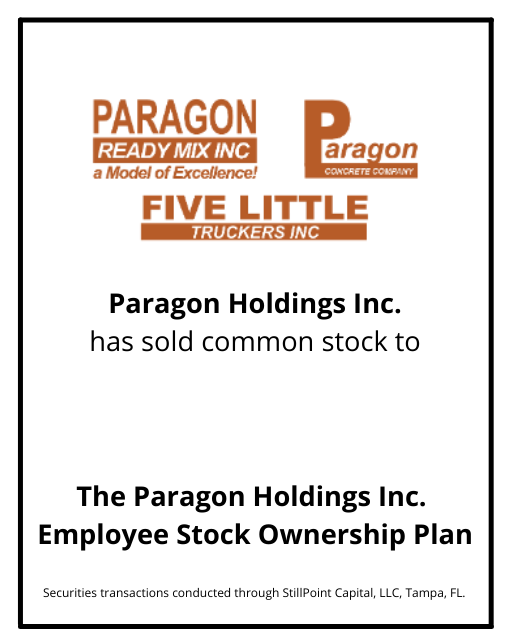 Greenwich Capital Group ("GCG") is pleased to announce its role as the exclusive financial advisor to Paragon Holdings Inc. ("Paragon") on its sale of common stock to the Paragon Holdings Employee Stock Ownership Plan ("ESOP"). This transaction adds to GCG's extensive experience in the Construction Services sector and ESOP Advisory.
About Paragon
Paragon operates ready-mix concrete plants and a trucking company in Southeast Michigan. Paragon is a leading value-added provider of ready-mix concrete to residential, commercial and municipal/governmental construction customers with both standard and customized admixtures, aggregates and a multitude of specialized supplies.
About the Transaction
GCG acted as Paragon's exclusive financial advisor in order to assist the company with the evaluation of its strategic options. After analyzing the industry, market dynamics and key factors important to ownership, a sale of common stock to the ESOP was determined to be the best path forward for all parties involved. The sale of common stock to the ESOP will allow Paragon's management team to stay in place to continue the growth achieved in recent years, while also providing all employees with the opportunity to have a vested interest in the company. "Paragon has grown tremendously over the past few years, in large part due to the efforts of our employees. This transaction will enhance Paragon's competitive market position and reward employees for their hard work, industry expertise, service excellence and their commitment. In addition, providing a path to employee ownership will assist with retaining and recruiting the best employees. We are excited to start this new chapter for Paragon and look forward to the company's continued growth," said Mandy Neihsl, Paragon's Vice President.