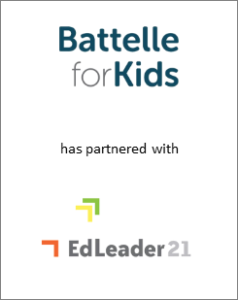 Greenwich Capital Group LLC ("GCG") is pleased to announce its role as an advisor to Battelle for Kids as it welcomes EdLeader21 as one of its national networks. This partnership sets the stage for EdLeader21 members to accelerate their efforts to become 21st century educational systems with the benefit of strategic counsel and deeper implementation support in various areas from Battelle for Kids.
Battelle for Kids will also work with EdLeader21—and its professional learning community of forward-thinking superintendents—to support the expansion and increase the overall impact of the network across the country.
About Battelle for Kids
Battelle for Kids is a national not-for-profit organization committed to collaborating with school systems and communities to realize the power and promise of 21st century learning for every student. Its team of experienced educators alongside communications, technology, and business professionals innovates and partners with school systems to offer an educational experience that prepares all students to develop the knowledge, skills, and mindsets necessary to thrive in an ever-changing world.
Supported by an initial grant from Battelle Memorial Institute, Battelle for Kids was established in 2001 by the Ohio Business Roundtable to improve student achievement in Ohio. In 2005, Battelle for Kids became an independent, national not-for-profit organization focused on developing innovative services and solutions that empower and support teachers, leaders, and school systems to reach every learner.
About EdLeader21
With a membership of nearly 200 districts and schools nationwide, EdLeader21 is committed to empowering and supporting education leaders in the design and implementation of 21st century education systems that ensure all students master the 4Cs (critical thinking, communication, collaboration, and creativity).