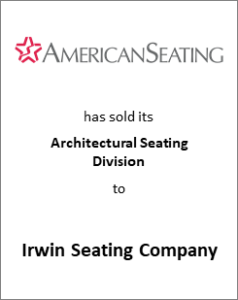 Greenwich Capital Group LLC ("GCG") is pleased to announce its role as the exclusive financial advisor to American Seating Company ("American Seating") regarding the sale of its Architectural Seating Division to Irwin Seating Company. The sale is the culmination of an ongoing effort by the company to optimize its operations and resources in order to pursue significant growth opportunities in the Transportation Seating market. This transaction adds to GCG's extensive experience advising corporate entities on carve-out divestitures.
About American Seating Company
Headquartered in Grand Rapids, MI, American Seating is an innovator of world-class seating solutions for transportation and architectural environments. Its Transportation Seating Division, which is recognized as an industry leader, provides seating for city buses, rail and motor coaches. The company's architectural seating is found throughout the Education, Entertainment, Office and Government Contract markets and has furnished professional stadiums across the country, including the historic Wrigley Field and Comerica Park.