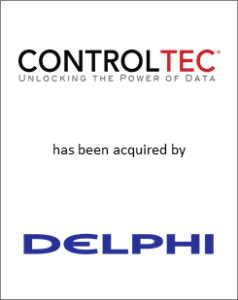 Greenwich Capital Group LLC is pleased to announce the sale of Control-Tec, LLC ("Control-Tec") to Delphi Automotive PLC ("Delphi"). Greenwich Capital Group advised the shareholders of Control-Tec through the transaction. The acquisition will allow Delphi to provide greater support in data analytics to its global OEM customers, while allowing Control-Tec to leverage Delphi's global footprint and resources to generate continued growth throughout the world.
About Control-Tec, LLC
Founded in 2009, Control-Tec is a leading provider of telematics and cloud hosted data analytics solutions. The Control-Tec platform is utilized by engineering teams at OEMs to provide customizable, real-time data and analysis during the late stages of vehicle product development. The technology allows OEMs to reduce testing cycles, meet launch schedules and reduce warranty exposure.
About Delphi Automotive PLC
Headquartered in Gillingham, U.K., Delphi is a global technology company for automotive and commercial vehicle markets delivering solutions that help make vehicles safe, green and connected. Delphi operates technical centers, manufacturing sites and customer support services in 33 countries.