With the rapid advancement of digital technologies, the adoption of cloud computing, and the increasing prevalence of data-intensive applications, the demand for data center services has experienced significant growth. As a result, data center infrastructure has expanded considerably, accompanied by higher maintenance requirements. According to Mordor Intelligence, the data center services market is projected to grow at an impressive CAGR of 13.8% from 2023 to 2028.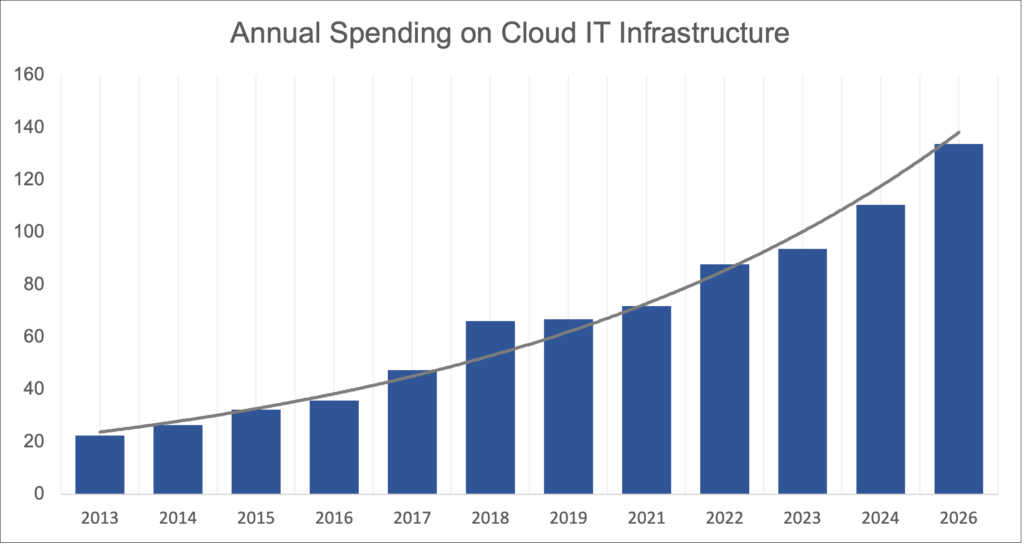 The surge in demand for cloud computing and artificial intelligence has been a catalyst for new developments in the data center space. At its simplest, a data center is a physical facility housing compute and storage hardware that organizations use to support applications and data. A data center's design is based on a network of computing and storage resources that enable the delivery of shared applications and data. (Cisco)
Globally there are over three hundred "hyperscale" data centers in the pipeline, with a significant concentration in the United States, as reported by Synergy Research Group. These data centers primarily cater to internet companies offering Infrastructure-as-a-Service, Platform-as-a-Service, and Software-as-a-Service solutions. The growth potential of this rapidly scaling business model has attracted substantial investments.
The year 2022 witnessed a remarkable level of activity in the data center services industry, with 187 mergers and acquisitions (M&A) valued at a total of $48 billion. The M&A activity has been heavily dominated by private equity, accounting for 91% of the deal flow in 2022, marking a substantial increase from 66% in 2021.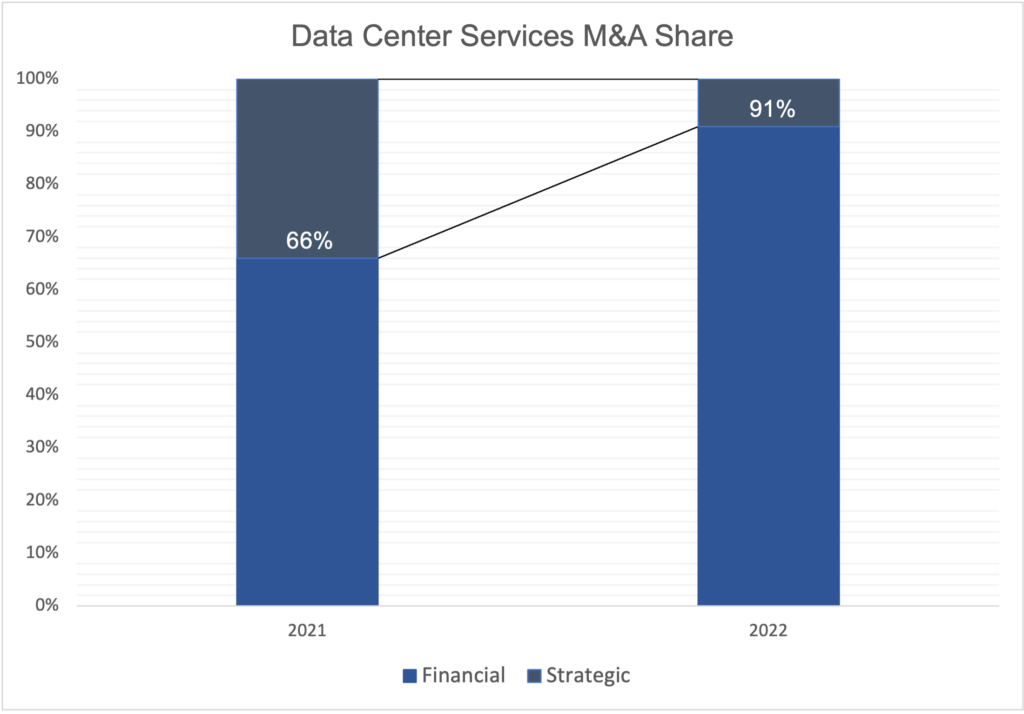 Amidst this dynamic landscape, three key trends are emerging within the data center space, providing the catalyst for future consolidation in the industry; 1) HVAC Innovation, 2) Modular and Micro Data Centers Fueled by Edge Computing, and 3) Improved Physical Security Measures.
1. HVAC Innovation
HVAC systems ensure proper air quality, temperature, and humidity within data centers. Many HVAC equipment companies have strategically focused on entering the data center sector and have accomplished this through acquisitions. Efficient cooling systems are paramount for optimizing data center operations, given that cooling accounts for 40% of a data center's energy consumption. To meet this demand, companies are shifting away from traditional fan-based cooling systems and embracing new technologies. A prime example is the implementation of liquid cooling, a cutting-edge process that involves installing liquid tubes in data racks to transfer heat into water, significantly enhancing cooling efficiency. Liquid cooling is 50 times more effective than air cooling. As a result, the market for liquid cooling solutions is predicted to surpass $3 billion by 2026, exhibiting a compound annual growth rate (CAGR) of 50.4% from 2021 to 2026, driven by the adoption across hyper-scale providers.
Corey Welp, MD and Co-Founder of fifteenfortyseven Critical Systems Realty, emphasized the significance of cooling efficiency in the industry, stating, "Anything that can safely improve cooling efficiency is a blessing to our industry. We continually review the latest processes for use in our new facilities and as options for upgrades in our existing ones. Continued consolidation and investment in new technologies will help improve stability and costs." 
Recognizing the soaring demand for data centers, private equity firms have been actively investing in this subsector to capitalize on the growth. One example of this is KKR's acquisition of CoolIT, a company specializing in liquid cooling solutions for data centers, for $270 million. CoolIT produces liquid cooling components, such as Cooling Distribution Units (CDU), Coldplates, and Secondary Fluid Networks. With this acquisition, KKR aims to further scale CoolIT's direct liquid cooling solution to cater to the anticipated demand for higher-density and energy-efficient data centers.
2. Modular and Micro Data Centers Fueled by Edge Computing
In recent years, modular data centers have gained popularity due to their prefabricated and flexible nature. These data centers offer several advantages, including rapid deployment, easier maintenance, and flexible capacity expansion. They have become particularly attractive during uncertain economic conditions when scalability and cost optimization are crucial. Hubbell, an electrical and electronic equipment conglomerate, acquired PCX Corporation, a designer and manufacturer of prefabricated modular data centers. This acquisition allows Hubbell to extend its market reach and offerings in the data center space. Smaller players have also entered the market, attracted by the lower capital intensity of modular data centers. Crusoe Energy Systems, a digital flare mitigation provider, acquired Easter-Owens Electric Co., a manufacturer of specialized electrical systems and modular data centers, to scale its fleet of modular data centers and reduce emissions.
Edge computing, which involves processing data closer to the source, has led to the rise of micro data centers deployed in various locations to support edge computing infrastructure. With the increasing adoption of IoT devices and technologies, such as smart homes, smart cars, and smart cities, the demand for edge computing has grown significantly. Traditional data centers are not practical for edge computing due to space and time constraints. Consequently, micro data centers have garnered significant attention from strategic and financial buyers. ScaleMatrix, a colocation data centers provider, acquired Instant Data Centers, an Arizona based micro modular data center manufacturer, in March 2019. "Across the spectrum of industries, our clients are increasingly requiring their IT resources to be closer to where the decision processes and data creation is occurring, especially as artificial intelligence continues to gain traction." – said ScaleMatrix CEO.
3. Improved Physical Security Measures
As the risk of data breaches and cyber threats continues to grow, data centers are prioritizing enhanced security measures to safeguard their infrastructure. While internal cybersecurity measures have been established by software companies and cloud providers, the risk of physical disturbances remains a significant threat.  To address this, data center administrators have adopted both physical and video surveillance as a crucial security measure. This increased demand has attracted substantial financial investment and led to notable M&A activity within the data center security services sector.
Markus Scott, CEO of EyeQ Monitoring, highlights the evolving role of physical security in the data center industry, stating, "Physical security monitoring is now evolving to help customers automate far more than simple loss prevention. Insight into critical systems such as HVAC, production system health, operational intelligence, and more can all be leveraged with the same technology investments – driving efficiency and safety in business environments. We see this innovation as being a key driver for value creation and industry consolidation moving forward."
M&A activity among lower middle market companies providing these services has been high. Jacmel Growth Partners, a private equity fund based in New York, completed the acquisition of Virtual Technologies Group (VTG), an IT services conglomerate, in the latter half of 2022. VTG's subsidiary, Comm-Core, specializes in surveillance, security, and telecommunication services and is based in Ohio. Strategic buyers are also entering the data center video surveillance market to strengthen their presence. Paladin Technology, a leading player in the industry, recently acquired VTI Security in March 2023. VTI security has a strong foothold in the data center market, among other key verticals. The merger between these entities is expected to drive significant advancements in the industry.
Conclusion
Cloud computing infrastructure is in a critical phase of development, driven by continuous innovation in data management and artificial intelligence. This innovation has fueled demand for larger-scale infrastructure deployments, which in turn has created an ecosystem around data center services. With so many strong industry forces fueling growth for the foreseeable future, the capital flow into this sector will remain robust. We believe we will continue to see strong M&A activity in this sector fueled by private equity and their portfolio companies.