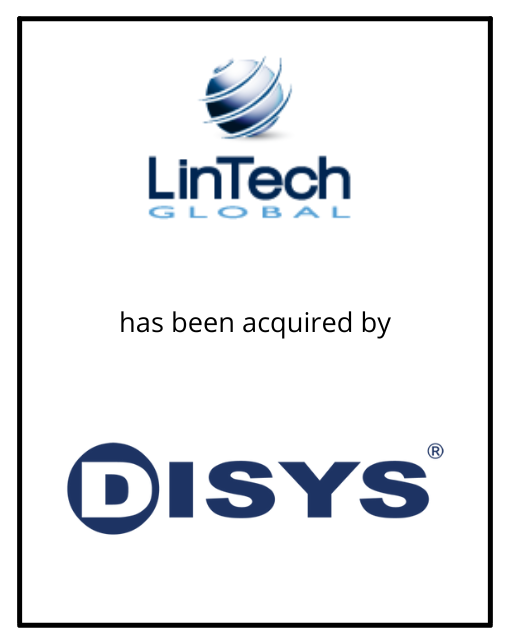 Greenwich Capital Group ("GCG") is pleased to announce its role as financial advisor to LinTech Global, Inc. ("LinTech" or the "Company") on its acquisition by Digital Intelligence Systems, LLC ("DISYS"). This transaction adds to GCG's extensive experience in the IT, staffing, and government services sector.
About the Transaction
LinTech, a leading federal prime contract holder with expertise delivering complex IT & engineering solutions to federal defense and civilian government agencies, has been acquired by DISYS, a global firm specializing in IT and workforce solutions.
Michael Lin, LinTech's President and CEO, says that joining the DISYS enterprise will allow his team to grow and evolve and continue to support the federal market. "For over 15 years, we've committed to addressing our clients' most mission critical IT and engineering challenges. We have gained significant knowledge and trust in the federal market, which has positioned us as a strong player in this space," he said. "By becoming part of the DISYS portfolio, our teams gain access to a global solutions platform with tremendous resources and reach. This will allow us to grow and create more value for our clients and our employees."
Mahfuz Ahmed, founder and Chief Executive Officer of DISYS, explained that the acquisition is part of DISYS' larger strategy to continue to expand its portfolio and capabilities to provide a wider variety of staffing and IT solutions for today's evolving employment environments.
"Today's employment environments are dynamic. From talent to workplaces to intricate IT solutions and digital innovations, these challenges are constantly evolving. The federal space is no exception," stated Ahmed. "As we expand our enterprise, we have taken a strategic position to further develop our capabilities and expand our offerings to deliver more, high-value workforce and IT solutions for our clients and consultants going forward. Our partnership with LinTech is another step in this evolution," he concluded.
LinTech brings a strong combination of proven knowledge and experience in the federal space to the DISYS platform of services and solutions. Ahmed expressed that this addition provides crucial insight and experience and will help DISYS expand its federal workforce and IT solutions to support the digital transformation of clients in the federal market and help them achieve their critical mission-based directives to serve and protect the nation.
LinTech will operate as an independent business division within the larger DISYS portfolio.
About LinTech Global (LinTech)
Founded in 2007, LinTech is Level 3 appraised for CMMI-DEV and CMMI-SVC and holds ISO® 9001:2015, ISO 20000-1:2018, and ISO® 27001:2013 certifications. LinTech is a graduated 8(a) small business, specializing in Financial Management, Agile Software Development, Enterprise IT Infrastructure Support, Cyber Security, and Health IT. LinTech's customers include U.S. Army, U.S. Navy, U.S. Air Force, Defense Health Agency, Department of Defense Office of Inspector General (OIG), NASA, EPA, Defense Language Institute, USPS OIG, and other government clients. LinTech and its joint ventures hold a variety of critical and best-in-class prime contract vehicles, including 8(a) STARS III, GSA Multiple Award Schedule, CIO-SP3, DIA SITE III, and the Navy SeaPort-e NG.
About Digital Intelligence Systems, LLC (DISYS)
DISYS, with a portfolio that includes Signature Consultants and D2M, is a global managed services and staffing firm with over 70 offices worldwide. DISYS' vision is to be a global business partner, delivering the highest quality and most consistent services at the best value to clients worldwide. Offering customized, outcome-driven solutions from IT staffing to direct placement services to managed solutions and consulting, DISYS annually deploys thousands of consultants to innovate, deploy, manage, and support their clients' technology needs.
Official Press Release: https://www.disys.com/insights/disys-acquires-lintech-global/