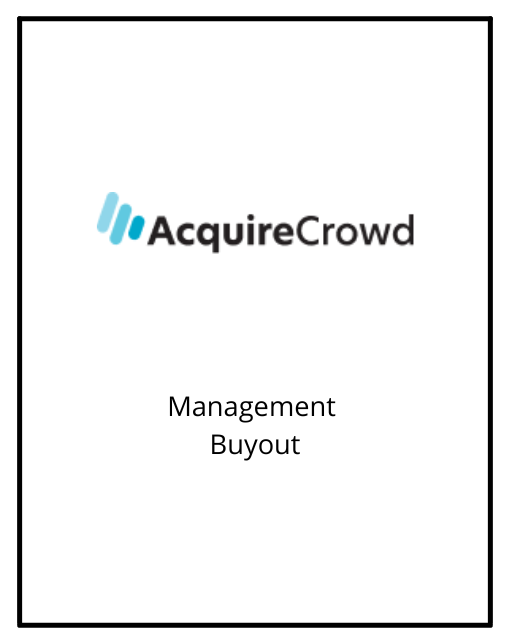 Greenwich Capital Group ("GCG") is pleased to announce its role as the exclusive financial advisor to Reserve Tech, Inc. also branded as AcquireCrowd on its management buyout transaction. This transaction adds to GCG's experience in the Marketing Services and AdTech sectors.
About the Transaction
GCG acted as the exclusive financial advisor to AcquireCrowd in negotiating and executing a management buyout. As part of the transaction, CEO Thomas Cutting has sold all of his equity position to remaining shareholders and transitioned from the CEO role in preparation for his next venture.
"GCG assisted the Company's shareholders in evaluating several strategic options for a fair and orderly exit while maintaining the day-to-day operations of the business.  I have full confidence in the team to build on AcquireCrowd's success and look forward to my next venture," said Thomas Cutting, former CEO, AcquireCrowd.
"We explored several alternatives, evaluating the impact of those options on operations, financials, and corporate governance. Ultimately, the shareholders decided that a management buyout would align shareholder interests while enabling the business to continue its growth. We were happy to assist the Company in evaluating opportunities and choosing an optimal outcome," said Jeff Cruz, Managing Director of GCG.
About AcquireCrowd
AcquireCrowd is a leading lead generation technology and services company.  AcquireCrowd leverages behavioral analytics, device linking, and machine learning to increase conversion and maximize return on digital ad spend. Using proprietary technology and first-party data, AcquireCrowd delivers relevant and in-market audiences to clients in the insurance, financial services, E-commerce, and home ownership verticals. AcquireCrowd was founded in 2016 and is based in Newport Beach, CA.