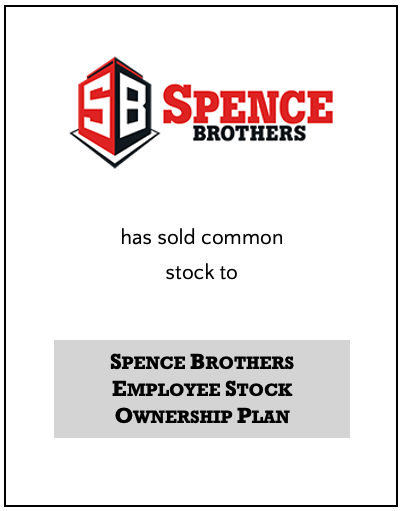 Greenwich Capital Group ("GCG") is pleased to announce its role as the exclusive financial advisor to Spence Brothers Inc. on its sale of equity to the Spence Brothers Employee Stock Ownership Plan ("ESOP"). This transaction adds to GCG's extensive experience in the real estate services sector and ESOP advisory.
About the Company
Spence Brothers is a trusted leader in construction management, design/build, and general contracting services throughout Michigan and the Great Lakes region. The Company works on construction projects of all sizes and scale.  Spence Brothers has built a strong reputation by providing its customers superior service, low costs, and time-conscious delivery. The Company benefits from long-standing relationships with its clients due to having spent over 125 years successfully completing projects. Spence Brothers brings broad experience to local projects and more horsepower for larger projects, allowing the Company to execute at a high level for its clients.
About the Transaction
GCG acted as the exclusive financial advisor to the Company in assisting with the structuring and execution of a sale of equity to the ESOP. With a strong culture built through four generations, the shareholders ultimately determined that a sale of equity to the ESOP over the next few years was the best path to achieving their goal of continuing their company's legacy of success.
"Spence Brothers had been on a path to developing employees into owners for a long time and the implementation of the ESOP will accelerate that process and result in a better alignment of ownership and leadership. We believe this is the best way to transition company ownership to the next generation of the 'Spence Brothers family', which has always included our employees" said Herb Spence III, CEO of Spence Brothers.
"ESOPs are a great way to align the interests of owners and employees by creating a path to ownership for the employees. An ESOP was the best option for Spence Brothers and will allow the company to continue its storied history. We were happy to assist Spence Brothers in achieving their goals," said Brian Hock, Managing Director of GCG.